PetRemedy Glucose Support
Creates Life Changing Results for Cats
Here are just a few of the stories from cat owners who we have helped over the years with the RHP® PetRemedy™ Glucose Support Formula: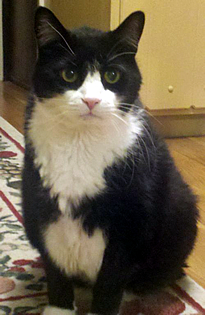 "This is the story of my cat Bates and his long-term use and success with PetRemedy:

"In March of 2003, I began to do my own research on-line about ways to support healthy blood sugar leves for my cat when I found the PetRemedy Glucose Support Formula. This company claimed to have an 'all-natural product' designed to help support and maintain healthy blood sugar levels for cats. I was desperate to try something, ANYTHING that might help so I figured I would try a bottle. I had nothing to lose at that point and I thought maybe, MAYBE this just might work!

"In August of 2004, I ordered my first bottle of PetRemedy Glucose Support Formula. After about 2-3 months of changing his diet as per the suggestions on how to improve my cat's nutrition, to include only low-carb, high protein wet food mixed with vegetables (Bates' veggie of choice is spinach!), I started to see his Blood Glucose levels normalizing!

"I couldn't believe that this product that I bought out of utter desperation to help my cat was ACTUALLY WORKING! I continued to follow the low-carb diet and the PetRemedy routine faithfully and, the longer I used the product, the more Bates' Blood Glucose levels normalized.

"Bates' will be 19 years old this year (2015)! He has also slimmed down as a result of the diet he has been on and is about 14 pounds now. I still check his Blood Glucose levels once every month or so just to be sure he is in the normal range, but he remains 100% insulin free and I owe many thanks to PetRemedy for making that happen!

"I have been using this product for almost 11 years and would recommend it to anyone! Thank you from the bottom of my heart for your hard work and please continue making this amazing product!"

Elizabeth Glowacki in Massachusetts for Bates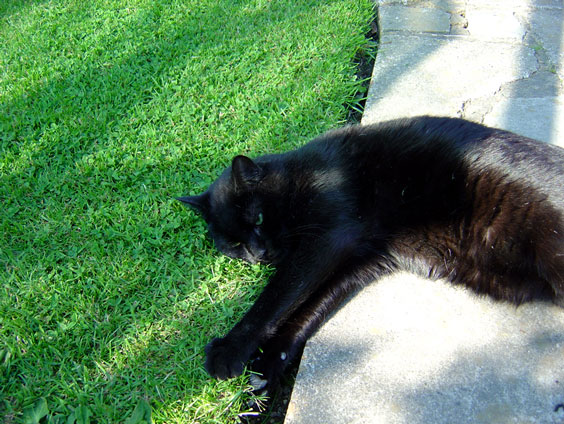 "As an Englishman I am often accused of being skeptical in the extreme and unwilling to try new ideas or innovations and so it was with the PetRemedy Glucose Support Formula when we found it featured on the Internet.

"Sooty took to the PetRemedy Glucose Support Formula immediately with no fuss, the twice daily dose of PetRemedy is easily mixed with his new "meat based" diet and there have been no adverse effects whatsoever. We also stopped using the dry food as it contained high levels of carbohydrates.

"After 10 weeks, the net result is a cat who is livelier, healthier and more beautiful than we can ever remember.

"I am convinced that the PetRemedy Glucose Support Formula has given him a quality of life that would never have been possible for him or us using conventional treatments.

"This skeptical Englishman is totally convinced that PetRemedy Glucose Support Formula really works!"



William Martin in Hampshire, England for Sooty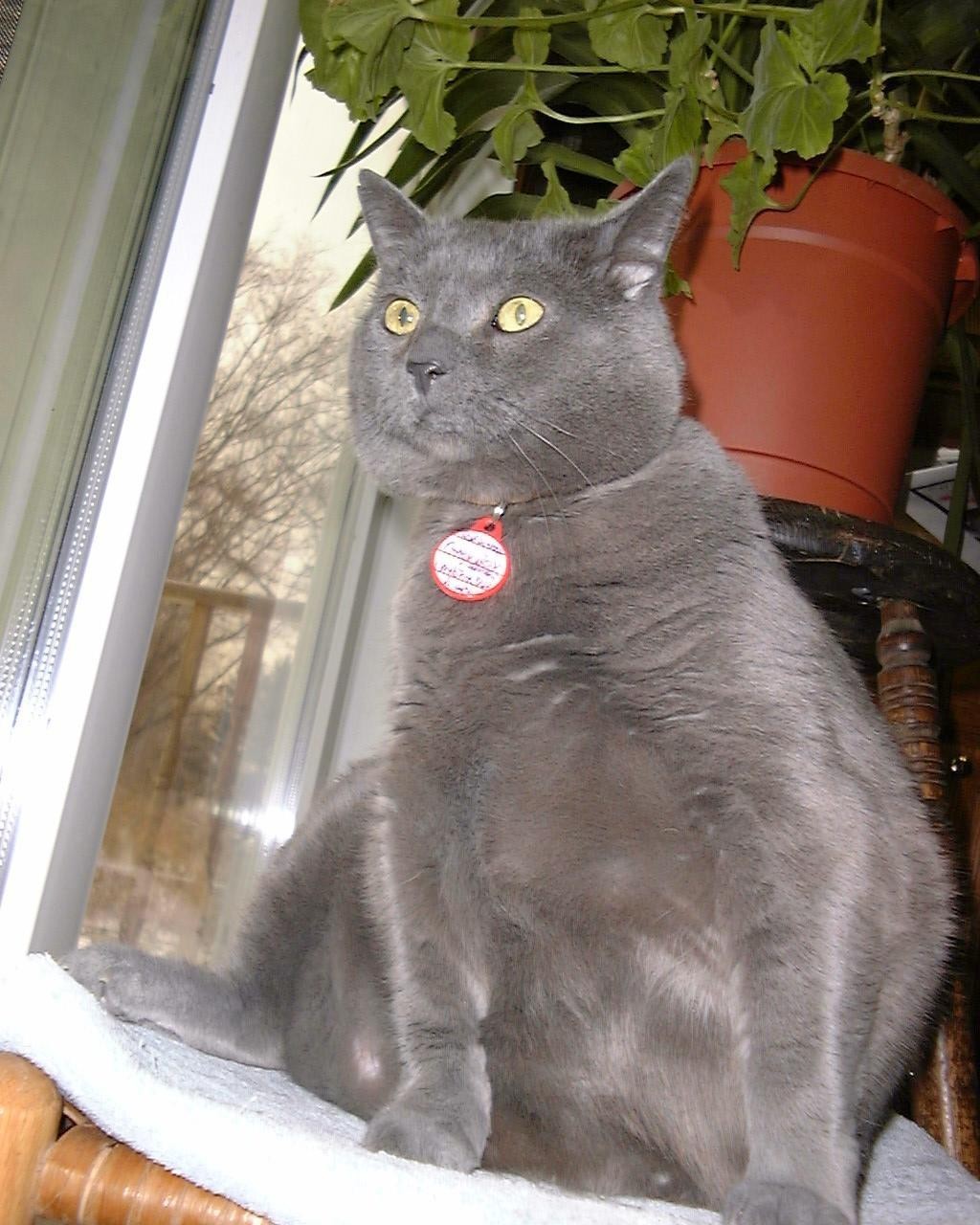 "Upon reading the info about your product, I decided I'd give it a try!

"It WORKED!! And is still working after 4-5 months! This Glucose Support formula is a blessing. Thanks for all your help and time spent speaking to me and for your real concern for my Grey Boy!"



Rob Schloss in New York for Grey Boy
"I received the PetRemedy Glucose Support Formula and I put Thomas on canned cat food with chopped green veggies.

"After a week on the diet and formula I took Thomas to the vet, who told me to take him home and feed him. He said just to give him the diet and PetRemedy Glucose Support formula."

Betty Qualls in Florida for Thomas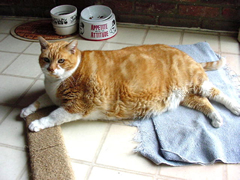 "Tiger is doing well. He is losing excess pounds at a steady, slow rate (which is great!!). He has much more energy and is very happy and alert.

"In short, this formula is just what the doctor ordered. He is, of course, 18 1/2 years old, so his arthritis was exacerbated by his obesity.

"I massage his limbs twice daily, stretch his legs, and encourage him to walk. We just use your PetRemedy nutrients. Here is a photo of our gorgeous cat!

"Thanks for your continued interest! Cheers!"



Laurie Roeder in California for Tiger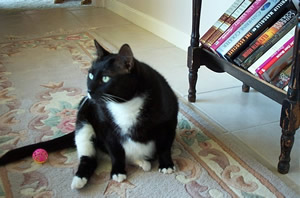 "Prior to your product and diet, his hair was dull, felt dry and had a lot of dandruff. He had dandruff and increased drinking and litterbox trips. He has a really thick coat, and had been shedding a lot.

"When I brushed him, I had a ball of hair about the size of an orange when I cleaned the brush. This was every other day! He also slept most of the time, but I didn't think too much about that, as he is over 12 years old.

"Well, the first thing I began to notice, was his reduced shedding. Now he hardly sheds at all, just a small amount on his comb. His hair began to shine and I noticed less and less dandruff. Now, his coat is silky, shiny (sounds like a shampoo commercial!) and he has almost no dandruff. He also plays with the brush when I brush him. In fact, he thinks he is a kitten again, playing with toys and pouncing on newspapers when I am trying to read them.

"I do believe in your PetRemedy and diet changes. I have recommended your product to several people I know. Thank you so much for your continued support and interest."



Dinah Breezley in Louisiana for Merlin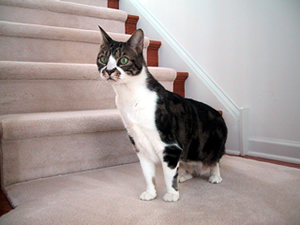 "Here is a picture of our cat Nicky. He is more active now and maintains his healthy blood sugar levels, since we have been following your dietary recommendations and giving him the PetRemedy Glucose Support Formula.

"Thanks for your help."



Robert Pekala in Delaware for Nicky
"Well let me begin with Madeline, she looks different now, her fur used to be all dry and she had very oily skin, with a lot of dandruff. NO MORE, it looks really good and it seems softer, energy level is definitely up, she is running around more, and she seems very alert.

"I even got a chance to test her and she maintains normal blood sugar levels. She has been eating spinach with her low carb cat food, and really loves it... I also noticed that she seems more energetic, she use to sleep almost all day, or be afraid of my other cat who would run after her, and she would cower and hide - now she seems real brave and has been running all over, not afraid.

"Thanks for everything."



Trish Oliver in New York for Madeline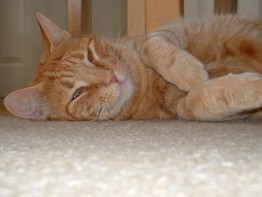 "Well it happened even sooner than expected. Murray is now officially back to normal as of yesterday evening.

"We spoke to our vet about trials on other animals in our practice and she said she would be very interested as she has only ever known one other cat she was treating to get back to normal.

"We are copying your info to the Vet so that she can pick it up."



Jeff & Debi Pacey in Essex, England for Murray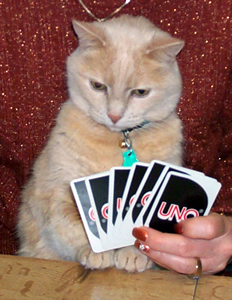 "Thanks so very much for your PetRemedy Glucose Support for Spencer. Since using your vitamins, he has more energy and is back to normal. Also his coat is shiny and much softer. His coat is normally sort of dull anyway, but now it is a bit shiny and so very soft - like he got a deep conditioning.

"I love him dearly and you have given him back to me.

"Here is a picture of him helping with our Uno game."



Irene Warmerdam in California for Spencer
"My cat is maintaining his healthy blood sugar levels. He has had two normal blood tests over a period of six months.

"We have changed his diet to only food that has no carbohydrates listed on the ingredients label. He has lost weight and looks great. You have a wonderful product."



Jim Breef in Texas for his Cat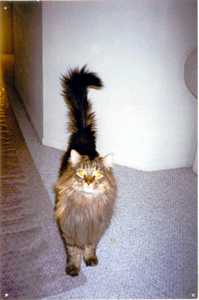 "The PetRemedy Glucose Support formula and the diet that I have put my cat on per your suggestions has done wonders.

"I have a whole new cat, just like when he was a young frisky thing.

"I can not thank you enough. My cat is only 7 years old and now he has more years ahead of him."



Sandra Bell in California for Grizzly
"Thank you for your interest in Jeremiah. He is a thirteen year old Maine Coon cat weighing 16 pounds.

"Since November I have been feeding Jeremiah only Fancy Feast small cans of food with first five ingredients meat or meat products and mixing 1/3 broccoli in every can and a capsule of PetRemedy with each.

"His coat is shiny and full and he is playful and energetic like when he was a kitten.

"Thank you so much for restoring my best friend. I will always be grateful."



Joanne Hepworth in Maryland for Jeremiah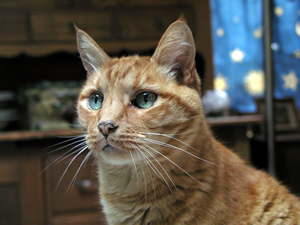 "When I learned about PetRemedy Glucose Support Formula, what impressed me with this product was not only did it have the right supplements, but the company understood the importance of absorbability and the related technical issues.

"Mr. Kitty is doing just fabulous with two capsules per day - his activity level has increased even more and he is eating much more and actually I can tell he is putting on good weight - doesn't feel as bony as even one week ago.

"I started Mr. Kitty on the PetRemedy and within 4 days I knew he would get better, his activity level rocketed, he started to act like the healthy Mr. Kitty I knew. The Mr. Kitty picture is after about 2 weeks. He doesn't look like he's ready to pass away. He continues to maintain healthy blood sugar levels, he's eating more and more and putting on weight.

"On the bright side, my young and healthy buddy cats are all now getting the right preventative supplements, and a better diet."



Gintaras Gircys in California for Mr. Kitty
"We started Jasper on the PetRemedy Formula 8 months ago.

"Back then he would hide for most of the day and he never did that before. It was very sad for us to see how upset this all made him.

"I checked his urine every day for a month to monitor his glucose level and it remained normal and stayed the same each time I checked it.

"I was truly amazed to see that it was working and now after having Jasper on the formula for 8 months I do not even need to check to make sure it's working. The results are obvious.

"He runs around and chases our 2 dogs, he plays with his toys again, he can even go up and down the steps again which he couldn't do for a few months so I know for sure he's stronger, but most of all his loving personality is back again.

"I truly can't say enough about this miracle formula. I wish I could let the world know how wonderful it is and what an amazing difference it made in our lives. I was so afraid that it was going to be one of those things in life that is too good to be true. I am so happy that all my fears are gone and it definitely works every bit as great as you said it would.

"Keep up all your great work and Thank you so much!"



Tammy Reighard in Pennsylvania for Jasper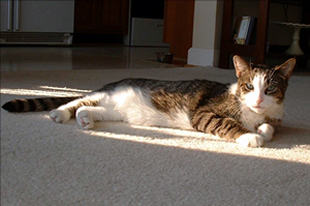 "Thanks for the input today, we really appreciate the help. Here is a picture of Felix who is approximately 12 years old.

"I want to thank you for your product.

"I originally ordered your product with a little reservation, but a lot of hope. It worked! The proof is, it is 11 weeks later and he is still kicking."



Ann and Michael Mathis in Maryland for Felix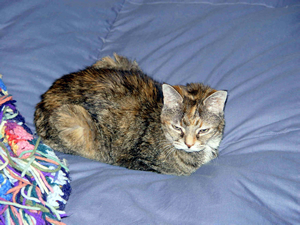 "In January, 2004 I did a web search and found the PetRemedy Glucose Support Formula. It seemed like a shot in the dark but I ordered a bottle to see what might happen.

"We switched immediately to a high protein, high fat diet combined with leafy vegetables.

"We saw quick results, but since adding the PetRemedy to Tabby's diet, we have seen a dramatic change. She had previously dropped to 4 pounds or less. She had a hollow look to her eyes and was little more than skin and bones.

"In less than three months with the PetRemedy she has gained weight (though not to the "Fatty Tabby" she had been a year ago) and she has become like a new cat.

"There is a lightness to her step and she purrs almost constantly. By switching from hard food, which is very high in carbohydrates, to a hamburger and chopped vegetable (broccoli) diet she is also eating more naturally.

"We consider the PetRemedy Glucose Support Formula to be a miracle product."



Philip Kachelmyer in Minnesota for Tabitha
Order the RHP® PetRemedy™ Glucose Support Formula below and you will see the results in your cat.
Order the RHP® PetRemedy™
Glucose Support Formula Now!